4525 West 3000 South
Roosevelt, UT 84066
Office: (435) 722-2494
Water Dispatch: (435) 823-0788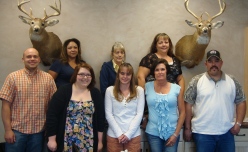 In Roosevelt we supply a wide variety of services to several companies Basin wide.  We supply fresh water for Fracing, drilling rigs for their day tanks, boilers, drilling pits and WorkOver Rigs.  We also supply fresh water for day-to-day operations to a variety of tanks and equipment.  We have our own Brine plant at the Roosevelt Terminal, which we transpot basin wide.  We are also set up to take care of all the production water needs, we have Truck Pup combos that we can haul 210 bbls, or we have several size options with our transports; 120bbls, 140 bbls, 160 bbls or 180 bbls.
Water Recovery is a disposal facility located south of Myton that is owned and operated by Iowa Tanklines, Inc.  We take the majority of the production water we haul to this facility, where it is evaporated during the summer months.
Our drivers, both owner operators and company, are highly trained monthly on new and established safety materials.  We pride ourselves on being highly trained and prepared for any job.