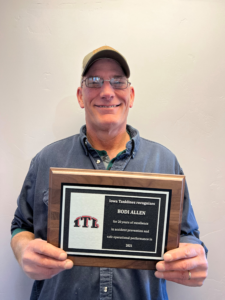 Congratulations to Bodi Allen, one of our Utah Terminal drivers, who has received our Annual Safe Driver Award for 20 consecutive years. His commitment to safety matches that of Iowa Tanklines. Keep on truckin' Bodi!
Watford City, ND
2541 132nd Ave NW
Arnegard, ND 58835
(701) 628-1084
Dispatch: (701) 629-5050
Denver, CO
9700 Emporia Street
Henderson, CO  80640
(303) 227-1272
Dispatch: (303) 227-1272
Roosevelt, UT crude, water
4461 West 3000 South
Roosevelt, UT, 84066
(435) 722-2494
Crude Dispatch: (435) 823-5411
Water Dispatch: (435) 823-0788
Stanley, ND crude, water
6151 Highway 8
Stanley, ND, 58784
(701) 628-1084
Dispatch: (701) 629-5050
Welcome to ITL Tanklines
ITL Tanklines specializes in providing liquid bulk truck transportation services. Our company was founded on a service philosophy over 35 years ago and today our goal of meeting our customers' expectations has not changed. ITL employs a staff of dedicated professionals to provide safe transportation solutions to our customers 24/7/365. At ITL nothing matters more than a safe flawless delivery and a satisfied customer.